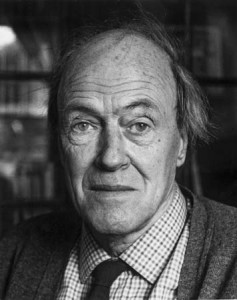 (1916 - 1990)
Roald Dahl was born on September 13th 1916 in Llandaff in Wales, of Norwegian parents. As a child, he spent his summer vacations visiting with his grandparents in Oslo. His father, Harald died when Dahl was four years old, and three weeks later his elder sister, Astri, died from appendicitis. The family had to sell their jewellery to pay for Dahl's upkeep at Repton, a private school in Derbyshire. Dahl really hated his years at public schools in Wales and England. He especially hated the matron who ruled the school dormitories. These experiences later inspired him to write stories in which children fight against cruel adults and authorities. At eighteen, instead of entering university, Dahl joined an expedition to Newfoundland. Returning to England he took a job with Shell, working in London (1933-37) and in Dar es Salaam, Tanzania (1937-39). During World War II he served in the Royal Air Forces in Libya, Greece, and Syria. He was shot down in Libya, wounded in Syria. While serving in the Mediterranean, Dahl crash-landed in Alexandria, Egypt. The plane crash left him with serious injuries to his skull, spine and hip. Following a recovery that included a hip replacement and two spinal surgeries, Dahl was transferred to Washington, D.C., where he became an assistant air attaché. (1942-43). In 1943 he was a wing commander and worked until 1945 for British Security Co-ordination in North America. In the crash Dahl had fractured his skull, and said later: while he was recovering from his wounds, Dahl had strange dreams, which inspired his first short stories. Dahl's first children's book, THE GREMLINS (1943), about mischievous little creatures, was written for Walt Disney and became later a popular movie. His collection of short stories, SOMEONE LIKE YOU (1954), gained world success, as did its sequel, KISS KISS (1959). In 1953 Dahl married the successful and wealthy actress Patricia Neal. They had one son and four daughters - the eldest daughter Olivia died of measles when she was eight. Dahl told his children nightly bedtime stories that inspired his future career as a children's writer. The marriage ended in 1983 after other family tragedies, and Dahl married Felicity Ann Crossland. Dahl received three Edgar Allan Poe Awards (1954, 1959, 1980). In 1982 he won his first literary prize with THE BFG, a story about Big Friendly Giant, who kidnaps and takes a little girl to Giantland, where giants eat children. In 1983 he received World Fantasy Convention Lifetime Achievement award. Dahl died of an infection on November 23rd, 1990, in Oxford.
My selection:
Charlie and The Chocolate Factory : (Charlie et la Chocolaterie) 1964
The story dealt with one small boy's search for the ultimate prize in fierce competition with other, highly unpleasant children, many of whom come to sticky ends as a result of their greediness. It presented the central theme in Dahl's fiction for young readers: virtue is rewarded, vice is punished. In the end the fabulous chocolate factory is given to Charlie, the kind, impoverished boy.
Someone Like You : 1954 & Kiss Kiss : 1959
A collection of short stories. The two books were serialized for television in America. A number of the stories had appeared in the New Yorker. Dahl's stories were seen in Alfred Hitchcock Presents (1955-61) and in the Tales of the Unexpected (1979) series.
Fantastic Mr. Fox : (Fantastique Maître Renard) 1977
Mr. Fox – who is evidently a fox - has to protect his family against three evil, but thankfully not bright, farmers (Boggis, Bunce and Bean). Accompany Mr. Fox on his adventures as he searches for food for his family and outwits these brutish farmers. Talking animals who are able to outsmart humans might sound bizarre and childish, but this is a great read for all ages, and was even adapted into a stylish Wes Anderson film.
Matilda : (1988)
Matilda tells the tale of Matilda, a good five-year-old girl who loves to read, has a horrible family and an even worse headmistress… She soon discovers, however, that she is special, and can make things move with her eyes. This is fundamentally a tale of good versus evil, but no topic, no matter how many times it has been told before, is boring when it is written by Roald Dahl. His imagination, creativeness and inventiveness make this children's story one-of-a-kind, and it will stay with you for years after you read it.