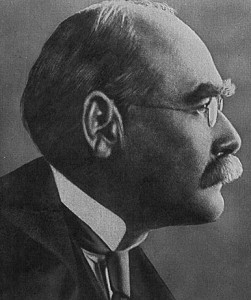 (1865 - 1936)
Rudyard Kipling was born on December 30th 1865, in Bombay (now called Mumbai) in India into an upper-middle class family. At the time of his birth, his parents, John and Alice, were recent arrivals in India. They had come, like so many of their countrymen, with plans to start new lives and to help the British government run the continent. The family lived well, and Kipling was especially close to his mother. His father, an artist, was the head of the Department of Architectural Sculpture at the Jeejeebhoy School of Art in Bombay. For Kipling, India was a wondrous place. Along with his younger sister, Alice, he reveled in exploring the local markets with his nanny. He learned the language, and in this bustling city of Anglos, Muslims, Hindus, Buddhists and Jews, Kipling fell in love with the country and its culture. However, at the age of 6, Kipling's life was torn apart when his mother, wanting her son to receive a formal British education, sent him to Southsea, England, where he attended school and lived with a foster family named the Holloways. These were hard years for Kipling. Mrs. Holloway was a brutal woman who quickly grew to despise her young foster son. She beat and bullied Kipling, who also struggled to fit in at school. His only break from the Holloways came in December, when Kipling, who told nobody of his problems at school or with his foster parents, traveled to London, where he stayed with relatives for the month. With few friends, he devoted himself to reading. By the age of 11, Kipling was on the verge of a nervous breakdown. A visitor to his home saw his condition and immediately contacted his mother, who rushed back to England and rescued her son from the Holloways. To help relax his mind, Alice took her son on an extended vacation and then placed him in a new school in Devon. There, Kipling flourished and discovered his talent for writing, eventually becoming editor of the school newspaper. In 1882, Kipling was told by his parents that they didn't have enough money to send him to college. Instead, they had him return to India. Kipling made his home with his parents in Lahore and, with his father's help, found a job with a local newspaper. He began to write fiction at the same time, and continued to observe and record the huge variety of native life he came across on his travels. In 1889, seven years after he had left England, Kipling returned to London. Kipling then marred an American woman, Caroline Balestier. They moved to America, but Kipling did not enjoy himself, seeing the Americans as an "inferior race". They returned to England, where they bought a house in Sussex. In 1907, Kipling received the Nobel Prize for Literature. He continued to preach the doctrine of Imperialism until his death, seeing it as the developed world's duty to take on "the white man's burden". As much of Europe braced for war with Germany, Kipling proved to be an ardent supporter of the fight. In 1915, he even traveled to France to report on the war from the trenches. He also encouraged his son, John, to enlist. Since Josephine's death, his daughter who died from pneumonia, Kipling and John had grown very close. In October of 1915, the Kiplings received word that John had gone missing in France. The news devastated the couple. Kipling, perhaps feeling guilty about his push to make his son a soldier, set off for France to find John. But nothing ever came of the search, and John's body was never recovered. Over his last few years, Kipling suffered from a painful ulcer that eventually took his life on January 18th, 1936. Kipling's ashes were buried in Westminster Abbey in Poets' Corner.
My selection:
Kim : 1901
Kim is Rudyard Kipling's most enduringly successful serious novel. It is the story of the orphaned son of a soldier in the Irish regiment. His full name is Kimball O'Hara, but he is known, as the title suggests, as Kim. The novel takes place in India, then a British colony, and Kim spends his childhood as a waif in Lahore where he meets a Tibetan 'lama' or holy man who is on a quest to find a mystical river. Kim joins him on his journey, but meets his father's old regiment. He is adopted by them and is sent to a school although in his holidays he continues with his wandering. Partly as a result of his spirited lifestyle, Kim is selected by Colonel Creighton of the Ethnological Survey who notices his promise as a secret agent for the British. Under the instruction of the Indian, Hurree Babu, he becomes a distinguished member of the secret service, getting hold of the papers of some Russian spies in the Himalayas. The novel is notable for its detailed portrait of Indian life, its religions and some of the humbler aspects of a land with a great population and associated problems. Some of Kipling's jingoism does show through in the latter stages of the novel, however, but this does not detract much from what is a highly successful study of life in India and of a boy who combines both Oriental and Irish and therefore East and West in his nature.
The Jungle Book : (Le Livre de la Jungle) 1894
The well-known book The Jungle Book came into its own as one of the animated highlights of the Disney empire. Its sequel The Second Jungle Book came a year later during the time when Kipling was ensconced at Brattleboro in Vermont. The story tells of the child Mowgli who is a foundling brought up by wolves. He learns over time and due to the instructions of various animal mentors the rules or 'Laws' of the jungle. Key figures are the wise black panther, Bagheera, and Baloo the sleepy bear. Both of these friendly beasts contribute to the child's education. We learn about the great enmity between Mowgli and the tiger Shere Khan who killed the boy's parents. Like Just So Stories (1902) it portrays the natural world and especially its creatures in a logical anthropomorphized manner, entertaining to adult and child alike. The simplicity of the concept and the lack of didactic moral overtones have made The Jungle Book a lasting influence on the young.
The Man Who Would Be King : (L'Homme Qui Voulait être Roi) 1888
Daniel Dravot and Peachy Carnehan are lovably roguish British soldiers who set out to make their fortunes by conning the priests of remote Kafiristan into making them kings. Rudyard Kipling finds an unexpected guest awaiting his presence in his darkened study one night. Without proper introductions, the hooded intruder begins to share with Kipling a fantastic tale of adventure and discovery from a faraway land that many thought only existed in myth and legend. The study of the famous writer soon disappears as we travel with the mysterious narrator on a fantastic journey to a foreign land.