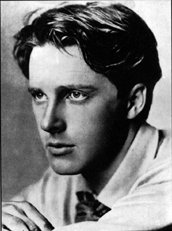 (1887 - 1915)
He was born in Rugby on August 3rd 1887. Rupert Chawner Brooke was the son of a schoolmaster and became one of the most famous poets of the first world war, due largely to the success of his poem The Soldier that expressed the patriotic feelings of a generation at the time of his death. A prominent figure of school and university life through his involvement in movements such as the Fabian society, and with a growing reputation as a handsome, charming poet and intellectual during his school and Cambridge years, there were plenty of indications of the path that Brooke's life was about to follow. The path towards Brooke's official recognition as a poet was not to occur until 1911 when his work was published in two volumes: Georgian poetry, an anthology on which he collaborated on with his friend Edward Marsh (who would later write Brooke's memoir), and his own book of poetry Poems 1911. However, before these books were published, Brooke had already begun to search the world for new sensations to write about with travels to Germany and Italy and later, in 1913, with further worldly travels to America, Canada, the South Seas and New Zealand in his role as a travel correspondent for an English newspaper. Whilst on these travels Brooke met and fell in love with a Samoan girl called Taatamata, for whom the poem Tierre Tahiti was written. Afterwards, in 1914, on the verge of a new life as a fine writer of both poetry and prose, the most well-known, and unfortunately the shortest, chapter of Brooke's memoir began with the outbreak of war and his commission as a sub-lieutenant in the Royal Naval division in September of that same year. Within a month he had been involved in troop training exercises in England and in a largely non-combatant role in Antwerp. By February the following year, already carrying signs of illness, Brooke set sail with the Mediterranean Expeditionary force en-route to fight the Turks in the Dardanelles. At 4:46pm on the 23rd April 1915, the day of Shakespeare and St George, Rupert Brooke died of blood poisoning on a French hospital ship moored in the bay of the Greek island of Skyros. After looking for a place to bury him, and in a hurry due to having to embark for the shores of Gallipoli the following morning, Brooke's friends hastily arranged a burial party and it was agreed that he should be buried in a place that he had visited only a few days before his death and that he had commented about the beauty of. So it was, that around 11pm on 23rd April 1915, a torch lit procession of Brooke's closest friends and fellow officers carried his body along a dried-up river bed of pink and white marble to be laid to rest in a scented olive grove full of wild poppies and dwarf holly.
My selection:
Among my favourite poems are: The Great Lover, Heaven, One Day, The Old Vicarage Granchester, The Soldier, Jealousy, The Hill, The life Beyond… and so many more…
You can read three of them in the section ''The Poet's Corner".