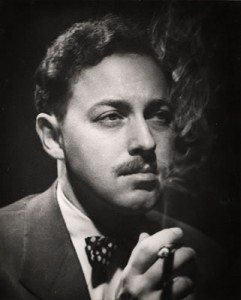 (1911 - 1983)
Thomas Lanier Williams was born in Columbus, Mississippi on March 26th, 1911. He suffered through a difficult and troubling childhood. ("lonely and miserable", as he characterized it) It was in large part due to an unsympathetic father and to schoolmates who often taunted him because of his small size and lack of physical prowess. In 1918 the family moved from Mississippi to St. Louis, and the change from a small provincial town to a big city was very difficult for Williams' mother. The young Williams was also influenced by his older sister Rose's emotional and mental imbalance during their childhood. A year before he was to graduate from the University of Missouri, his father removed him from college and got him a job with the International Shoe Company, where he worked by day and wrote by night. He despised the job but accepted to work at the warehouse. The strain was too much and three years later, he suffered a nervous breakdown. While recovering at his grandparents' home in Memphis, Tennessee wrote his first play. With his grandparents' financial help, he attended the University of Iowa, and earned a B.A. in 1938. He then moved to New Orleans, where he began going by the name Tennessee, a nickname he'd been given in college thanks to his southern drawl (a slow way of speaking). After struggling with his sexuality through his youth, he finally entered a new life as a gay man, with a new name, a new home, and a promising new career. In the early 40s, Williams moved between several cities for different jobs and playwriting classes, also working at MGM as a scriptwriter. In 1939, on the basis of a compilation of four one-act plays called American Blues (published in 1948), Williams won a playwriting grant and recognition as a promising playwright. The promise was fulfilled in 1945 with The Glass Menagerie. This was followed two years later with the equally successful A Streetcar Named Desire (for which he won a Pulitzer Prize in 1948). From then until his death, Williams's reputation as a premier American dramatist grew with such plays as Cat on a Hot Tin Roof (1955), Suddenly Last Summer (1958), and The Night of the Iguana (1961). Williams also published six volumes of prose and three volumes of poetry.Around 1951, Williams met Frank Merlo. The two fell in love, and the young man became Williams' romantic partner until Merlo's untimely death in 1961. He was a steadying influence on Williams, who suffered from depression and lived in fear that he, like his sister Rose, would go insane.The sixties brought hard times for Tennessee Williams. He had become dependent on drugs, and the problem only grew worse after the death of Frank Merlo in 1961. Merlo's death from lung cancer sent Williams into a deep depression that lasted ten years. Williams was also insecure about his work, which was sometimes of inconsistent quality, and he was violently jealous of younger playwrights.Overwork and drug use continued to take their toll on him, and on February 23rd, 1983, Williams choked to death on the lid of one of his pill bottles.
My selection:
A Streetcar Named Desire : (Un Tramway Nommé Désir) 1948
A study of sexual frustration, violence, and aberration set in New Orleans, in which Blanche Dubois' fantasies of refinement and grandeur are brutally destroyed by her brother-in-law, Stanley Kowalsky, whose animal nature fascinates and repels her. Williams writes largely in a Gothic and macabre vein, but with insight into human passion and its perversions, and a considerable warmth and compassion.
Cat on a Hot Tin Roof : (La Chatte sur un Toit Brûlant) 1955
A Freudian family drama which takes place at wealthy cotton planter Big Daddy's 65th birthday, while his daughter-in-law Maggie fights to save her marriage to the alcoholic and despairing Brick.On a single summer evening, the Pollitt family gathers to celebrate the birthday of patriarch Big Daddy. On the previous evening, Big Daddy's son Brick broke his leg while trying to jump hurdles at the school track. His wife Margaret chides him for his foolish behaviour and his constant state of drunkenness, but mostly she is trying to impress – and seduce – her husband. Brick has refused to sleep with Maggie ever since his friend Skipper died. Maggie desperately wants Brick to sleep with her – both to satisfy her own physical needs, and because she wants to get pregnant.Maggie feels a particularly urgent need to have a baby because she needs to produce an heir. Big Daddy is dying, although he has not been told this yet, and he does not have a will. Maggie is terribly afraid of being poor, so she wants to make sure that she and Brick have a secure place in Big Daddy's will. In order to do so, however, she must contend with Brick's brother Gooper and his wife's significant brood of children.Brick, for his part, is too numb with liquor to care much about anything. He makes clear that he is disgusted by Maggie and completely uninterested in anything she has to say. The only thing that rises him to emotion is the topic of Skipper. He and Brick were best friends, but Maggie thinks their relationship was a bit more than that. She called Skipper out on his attraction to her husband, and to prove her wrong Skipper slept with her. Both Maggie and Skipper, however, were making love to one another in lieu of Brick. Shortly thereafter, Skipper began to self-destruct, and soon died. This is the point at which Brick turned to liquor as well.They are interrupted by the arrival of more family members. Everyone but Big Daddy and Big Mama knows that Big Daddy is dying, but he and his wife were told by the doctor that he just had a spastic colon. Tonight, the sons will tell their mother the truth.After a round of happy birthday, the older couple is left alone. Big Daddy is cruel to Big Mama, who insists that she loves him even though he doesn't believe her. He is frustrated that she has taken charge of the estate since he became sick, but now that he knows that his days are no longer numbered (he thinks) he is going to take it all back and return Big Mama to her place.Big Mama leaves and Big Daddy summons Brick. Big Daddy tries to open up to Brick, but his son isn't interested in talking. The older man persists in making an effort at communication, telling stories about his travels in Europe and how horrible poverty is. He worked hard to get where he is now, financially, and now that he is free of cancer, he is going to enjoy his wealth properly. Big Daddy speaks of taking on a mistress – Big Mama never interested him.Brick, however, does interest him. He tries to coerce his son into admitting why he drinks, eventually stealing his crutch and knocking him to the ground. With some effort, Big Daddy zeros in on the truth – that it all comes back to Skipper. The night that Skipper and Maggie slept together, Skipper called Brick and tried to make an admission. Brick hung up on him, because he was entirely incapable of even allowing the possibility of homosexuality into his outlook. It is this disgust with himself and with his world that drove Brick to the bottle.In his fury about being confronted with the truth of his relationship with Skipper, Brick tells Big Daddy that he has cancer.Big Daddy leaves, upset, and the rest of the family enters. With difficulty, Big Mama is told that Big Daddy has cancer, although she refuses to believe it at first. She tells Maggie that Brick has to get his act together, so that he can take care of the estate when Big Daddy is gone.Mae and Gooper pounce on this, and they produce legal papers that would establish a will favorable to their interests. They try to convince Big Mama that this arrangement is for the best, due to Brick's alcoholism and Maggie's childlessness. Maggie takes this as her cue and announces grandly that she is with child. Her brother- and sister-in-law don't believe her for a second, but Big Mama rejoices in the good news, and leaves to tell Big Daddy.Maggie and Brick are left alone. He says she was very bold to make that lie, but Maggie intends to turn the lie into truth. She takes away Brick's liquor, and says that she will not get him any more drinks until he consents to sleep with her. Big Mama runs in, searching for the morphine that the doctor left for Big Daddy – the pain has set in. She leaves, and as the play ends, Maggie tells Brick that she loves him as Brick wonders "wouldn't it be funny if that were true?"
The Night Of The Iguana : (La Nuit de L'Iguane) 1961
The Night of the Iguana is his last major artistic, critical, and box office successes. First performed on December 28, 1961, on Broadway in the Royale Theatre, The Night of the Iguana won Williams his fourth New York Drama Critics Award. Like other plays by Williams, The Night of the Iguana focuses on sexual relationships and odd characters, including one crippled by his desires, the Reverend Shannon. Indeed, in retrospect, many critics see The Night of the Iguana as the link between stylistic eras (early/middle to late) for Williams. They argue that Williams reveals more of himself in this play than his previous work. Indeed, unlike many of Williams's plays The Night of the Iguana ends on a positive, hopeful note. There has also been a lingering controversy over what the iguana, mentioned in the title, represents. The iguana, which spends most of the play tied up on the edge of the veranda, is seen as a symbol for a number of things, including freedom, what it means to be human, and Shannon. As an unnamed critic in Time magazine wrote, ''Purists of the craft may object that, strictly speaking, The Night of the Iguana does not go anywhere. In the deepest sense, it does not need to. It is already there, at the moving, tormented heart of the human condition."