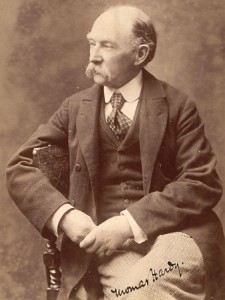 (1840-1928)
Thomas Hardy was born in Dorset, near Dorchester to a simple rural life. In his early years, his mother supported his love for books while his father, a stonemason, taught him the violin. After his schooling in Dorchester, Hardy pursued a career as an architect, training as an apprentice locally when he was 16. He left the rural South West at the age of 22 and travelled to London where he worked as an architect for Arthur Blomfield. This was a period of great change for the young Hardy who was used to rural existence and had held a strong enough faith to consider taking Holy Orders in the early 1860s. In the metropolis his passion for reading continued but he lived in the middle of the bustle of city life and like many 19th century intellectuals he lost his faith and became an agnostic. In 1867, homesick for the countryside that would later become the setting for many of his novels, he returned to Dorchester where he continued his work in architecture but began to write. He wrote and found a publisher for Desperate Remedies (1871). He followed this novel with Under the Greenwood Tree (1872), A Pair of Blue Eyes (1873) and Far from the Madding Crowd (1874). The success of these books allowed him to give up architecture and marry Emma Gifford who he had met in Cornwall in 1868. It was a marriage filled with difficulties, many of which are reflected in the turmoil of relationships in his novels, for instance those of Henchard in The Mayor of Casterbridge (1886). However, the couple travelled together in Europe and despite his reservations about the city and its influence upon rural life, Hardy visited London annually for months at a time. Hardy consistently portrayed England in terms of its rural life, specifically the southwestern counties or "Wessex". He wrote prolifically and not only novels but also short stories and poetry. After moving to Max Gate house in 1885, Hardy gained recognition among the aristocracy and in literary circles, though reviewers of his books typically condemned the bleakness of his outlook. Hostile criticism reached a head with the Tess of the D'Urbervilles (1891) - which was initially rejected for publication - and Jude the Obscure (1895). Hardy gave up writing novels. In later years he concentrated on writing poetry (which he valued more highly) to limited applause. His wife died in 1912, and Hardy married Florence Dugdale in 1914. In his quieter last decade he obtained numerous public honours including the Order of Merit. He also gained honorary degrees from both Oxford and Cambridge Universities. He was even nominated for the Nobel Prize for Literature, though he did not win. Since his death his poetry has been as influential as his prose.
My selection:
Tess Of The D'Urbervilles : (Tess D'Urbervilles) 1891
Tess of the D'Urbervilles was subtitled A Pure Woman and published in 1891. It is one of Hardy's saddest tales of rural troubles. Tess is the daughter of the poor John Durbeyfield who learn from the village parson that his family is related to ancient nobility, being the last of the family the D'Urbervilles. In trying to make use of this connection, Joan – John's wife - suggests that Tess pursue the son of the local family of Mrs D'Urberville. As it turns out the Mrs D'Urberville has merely taken the name for convenience but Tess becomes involved with her son Alec nonetheless who gives her employment but takes advantage of her and in unpleasant circumstances seduces her. They have a child together who dies early and cannot be baptised because he is illegitimate. The second stage of the novel concerns the family of the Reverend Mr Clare and his son Angel. Angel and Tess marry but when she admits the incident with Alec their relationship is torn apart leading to Angel's departure for South America and Alec's second attempt to ensnare Tess. This leads to murder, escape and superficial impurity on the part of Tess who is finally brought to "Justice". This is an exceptionally bleak novel that offers little relapse from the persistent cruelty of fate (or as the novel would have it the President of the Immortals) against Tess. At the time the novel was considered pessimistic and immoral
The Mayor Of Casterbridge : (Le Maire De Casterbridge) 1886
One of the best known and most critically acclaimed of Hardy's "Novels of Character and Environment" and indeed of all his novels, The Mayor of Casterbridge is the story of Michel Henchard. Henchard is a country labourer who in the first chapters of the book gets drunk while he and his wife are travelling and stopping at a fair and promptly sells both her and his child to a sailor calle Newson. Although this was not unheard of in the early nineteenth century among the poor it had certainly died out by Hardy's time. Time passes in which Henchard manages to accumulate wealth and respect, even becoming mayor of the town of Casterbridge. Suddenly his wife reappears with her daughter Elizabeth-Jane who Henchard wrongly supposes is his. His tragedy begins to set in as he meets Farfrae who represents the modern, cynical age of new farming methods. Farfrae is not so much his enemy as his inintended rival and gradually takes over Henchard's life and loves including Lucetta. Worse is to come as Newson arrives to take his step-daughter and Farfrae takes over the final parts of Henchard's former life. His great pride irrevocably tarnished, Henchard dies wretchedly on the outskirts of town. The greatest point of interest in the novel is the development of Henchard's character from initial contentedness through bitter attempts to hold onto what he considers 'his' to total desparation.
Jude The Obscure : (Jude) 1895
Jude the Obscure was initially published in abridged form in Harper's New Monthly under the title Hearts Insurgent between 1894 and 1895, and later published in full in the 1895 edition of Hardy's works. To say the very least it was poorly received and was termed everything from 'depraved' to 'drivel'. Perhaps due to such fierce criticism it was Hardy's last novel before he took to writing only poetry and drama. It is the story of various illicit unions that form themselves around the central character of Jude Fawley, the village mason. He is encouraged by Phillotson, a schoolmaster, to apply for Christminster (representing Oxford University), but as in every part of his life he is tormented by rejection. Arabella Donn seduces him into marriage by feigning pregnancy and then leaves him at which point he takes up residence in Christminster while still trying to gain access to the university. Jude then falls for Sue Bridehead (married unhappily to Phillotson) and they have an illicit relationship. However, her contradictory desires prevent their long-term contentedness since she seeks freedom to the cost of love. We learn of the death of Sue and Jude's children at the hands of Jude's only child by Arabella since the latter believes none of them have the right to live. The novel concerns Jude's ambition as it is thwarted repeatedly by the squalid nature of a life ruined by poverty and the indecision of others. Like The Mayor of Casterbridge, Tess of the D'Urbervilles and others the novel ends with the protagonist's miserable death that represents only the indecency of fate that causes suffering even or perhaps especially in the pure of heart.
The Woodlanders : (Les Forestiers) 1887
This novel is one of Thomas Hardy's less well known novels. However, it is a gripping story with brilliant characterisation. A Brief Taste of the Plot..... The story begins when Grace returns home to Little Hintock from school. Her furture had been decided long before - she was to marry Giles. Her father had arranged this years earlier to make up for an injustice he had caused Giles' father. Grace and Giles had been very happy with this arrangement but Grace finds a growing disatisfaction within herself upon her return. Having seen more of the world she begins to resent the prospect of settling down in such a small place. Her father is torn between the promise he made in the past and the feeling that now he has educated Grace she deserves better in life than Giles can offer. It is with the begin nings of a sense of ambition that Grace meets Edred Fitzpiers. The young doctor seems to have an air of mystery surrounding him and Grace is not the only girl to fall for his charms. Meanwhile, things are looking worse for Giles. He is evicted from his home after unintentionally annoying Mrs Charmond, the house's owner. As the young man's finances start to dwindle, George Melbury is becoming convinced that Giles is not suitable for his daughter. Edred and Giles both begin to court Grace, who has a difficult decision to make. This decision is not helped by the rumours she hears about one of her suitor's possible indiscretions. Is this just malicious gossip or does Grace have friends she never knew of? So What Next... Does Grace choose Edred or Giles? What becomes of Marty South's pursuit of Giles? Is anyone unfaithful and if so with who? Does Mrs Charmond carry out her plan to leave for the continent taking one of the villagers with her? Throughout the book Hardy is posing questions to ensure that you continue reading. The story is unpredictable and the magnificent characterisation makes it certain that you'll want to find out the ending (which comes as a great surprise).