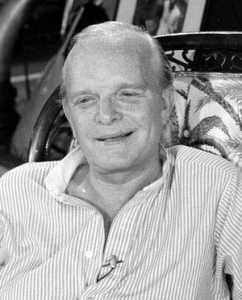 (1924 - 1987)
Truman Capote was born in New Orleans on September 30th, 1924. he was considered as a Southern Gothic novelist, journalist. His full name was Truman Streckfus Persons. In Monroeville, Capote befriended a young Harper Lee. The two were opposites—Capote was a sensitive boy who was picked on by other kids for being a wimp, while Lee was a rough and tumble tomboy. Despite their differences, Lee found Capote to be a delight, calling him "a pocket Merlin" for his creative and inventive ways. Both became famous writers. In 1931 his parents divorced and a year later his mother remarried to Joseph Garcia Capote. He moved to New York City to live with her and his new stepfather, Joe Capote. A mediocre student, Capote did well in the courses that interested him and paid little attention in those that did not. He attended a private boys' school in Manhattan from 1933 to 1936, where he charmed some of his classmates. An unusual boy, Capote had a gift for telling stories and entertaining people. His mother wanted to make him more masculine, and thought that sending him to a military academy would be the answer. The 1936-1937 school year proved to be a disaster for Capote. Capote was clearly in decline, battling his addictions and physical health problems. In the final year of his life, Capote had two bad falls, another failed stint in rehab, and a stay in a Long Island hospital for an overdose. Traveling to California, Capote went to stay with old friend Joanne Carson, the ex-wife of Johnny Carson. He died at her Los Angeles home on August 25th, 1984. He was widely hailed as a stylist after publication of his earliest writings. These include his novel of alienated youth, OTHER VOICES, OTHER ROOMS (1948), the Gothic short stories in A TREE OF NIGHT (1949), and the lighter novel THE GRASS HARP (1951; play, 1952). The novella BREAKFAST AT TIFFANY'S (1958; film, 1961) introduced the charming, hedonistic Holly Golightly as a heroine. Childhood reflections formed the basis of two short stories that were adapted for television: "A Christmas Memory" (1956) and "The Thanksgiving Visitor" (1968). Capote's nonfiction novel IN COLD BLOOD (1966; film, 1967) was based on a 6-year study of the murder of a rural Kansas family by two young drifters. Capote wrote about the jet set in THE DOGS BARK: Public People and Private Places (1973). ANSWERED PRAYERS, an unfinished novel, was published posthumously in 1987.
My selection:
Breakfast at Tiffany's: (Petit Déjeuner Chez Tiffany) 1959
The story is set in New York in the 1940's and is told through the eyes of a writer, who moves into the apartment block that Holly Golighty lives. He's fascinated with her from the start, her late hours, partying, friends, the way she looks.
It doesn't have a forties feel to it though, there is no sense there is a huge war on. It's more like the relaxed, materialistic late fifties - when we first meet Holly, she is described as "never without dark glasses, always well groomed", the writer thinks she is a "photographers model". At the end of the novella, in the Cadillac, Holly puts on a "slim black dress" - a classic 1950's beatnik look. Perhaps this is because Capote wrote it in the 50's - the novella was first published in 1958. Some commentators have said that Capote made Holly look too thin, almost pre-adolescent in her lack of curves - but he was gay and probably to him this was what the ideal woman looked like.
The book is also more risque, more subtle and less mainstream than the movie. There's a scene where Holly and her friend Mag sit on the fire escape discussing what their respective boyfriends were like in bed. She also talks casually about lesbians, gays, flirtations with black men - all of which must have been daring for the period. Her conversation is peppered with French - this was a time when Americans thought all things French to be chic and superior! Holly is also shrewder and much more calculating than Audrey Hepburn played her in the movie eg: the way she steals her friend's boyfriend from her. The ending is also more bittersweet than in the movie.
In Cold Blood: (De Sang Froid) 1965
In Cold Blood, published in 1965, was first serialized in the New Yorker in four installments. It was an instant critical and commercial success, bringing Truman Capote both literary recognition and celebrity status. With its publication, Capote claimed to have invented a new genre, the ''nonfiction novel'', and critics quickly accepted his classification, his methods, and his purpose as a new combination of journalism and fiction. He wanted to merge the two—enlivening what he saw as stagnant prose conforming to stale, rigid standards—and he wished to experiment with documentary methods. The Clutter murders were the perfect vehicle for this monumental experiment in reportage.
In Cold Blood painstakingly details, in four parts, the Clutter family's character, activities, and community status during the last days before their murder; the planning and machinations of the killers; the investigative dedication of the Kansas Bureau of Investigation (KBI) agents; and the capture, trial, and execution of the murderers. While the book portrays the Clutters sympathetically, it also concentrates the reader's sympathies on Perry Smith, who, abused and abandoned as a child and scorned as an adult, allegedly commits all four murders. In framing the question of nature versus nurture, Capote's tightly documented, evocatively written account of the Clutter killings asks whether a man alone can be held responsible for his action when his environment has relentlessly neglected him.
Some Short Stories:
Among the selections are "A Tree of Night" in which an innocent student, sitting on a train beside a slatternly woman and her deaf-mute companion, enters a seductive nightmare that brings back the deepest fears of childhood . . . "House of Flowers" the inspiration for a celebrated Broadway musical, which tells of a superstitious prostitute who learns to love in a way no one else can ever understand . . . the holiday perennial "A Christmas Memory" famously adapted into a superb made-for-TV movie . . . and "The Bargain" Capote's melancholy story about a suburban housewife's shifting fortunes.