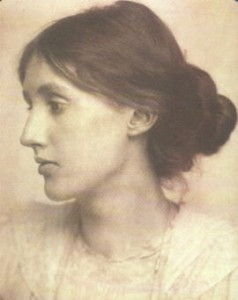 (1882 - 1941)
Adeline Virginia Stephen was born in London on 25th January 1882, as the daughter of Julia Jackson Duckworth, a member of the Duckworth publishing family, and Leslie Stephen, a literary critic. She was educated at home by her father. Her youth was shadowed by series of emotional shocks - her half-brother Gerald Duckworth sexually abused her and her mother died when she was in her early teens. Leslie Stephen, her father, suffered a slow death from cancer. When her brother Toby died in 1906, she had a prolonged mental breakdown. Following the death of her father in 1904, she moved with her sister Vanessa and two brothers to the house in Bloomsbury, which became central to activities of the Bloomsbury group. Virginia's economic situation improved as she inherited £2,500 from an aunt. In 1912 she married the political theorist Leonard Woolf, who had returned from serving as an administarator in Ceylon (now Sri Lanka). During the inter-war period Woolf was at the centre of literary society both in London and at her home in Rodmell, near Lewes, Sussex.The Bloomsbury group was initially based at the Gordon Square residence of Virginia and her sister Vanessa (Bell). The group included among others E.M. Forster, Lytton Strachey, Clive Bell, Vanessa Bell, Duncan Grant, and Leonard Woolf. In 1917 the Woolfs had bought a small hand printing-press in order to take up printing as a hobby and as therapy for Virginia. By now they were living in Richmond (Surrey) and the Hogarth Press was named after their house. Virginia wrote, printed and published a couple of experimental short stories, 'The Mark on the Wall' and 'Kew Gardens'. The Woolfs continued handprinting until 1932, but in the meantime they increasingly became publishers rather than printers. By about 1922 the Hogarth Press had become a business. From 1921 Virginia always published with the Press, except for a few limited editions.By the early 1930s, the group ceased to exist in its original form. In the event of a Nazi invasion, Woolf and Leonard had made provisions to kill themselves. After the final attack of mental illness Woolf loaded her pockets with stones and drowned herself in the River Ouse near her Sussex home on March 28th, 1941. On her note to her husband she wrote: "I have a feeling I shall go mad. I cannot go on longer in these terrible times. I hear voices and cannot concentrate on my work. I have fought against it but cannot fight any longer. I owe all my happiness to you but cannot go on and spoil your life." Her suicide has coloured interpretations of her works, which have been read perhaps too straightly as explorations of her own traumas.
My selection:
Mrs Dalloway : 1925
Clarissa Dalloway, a fashionable London hostess, is to give an important party. Through her thoughts on that day and through her memories of the past, her character is gradually revealed. And so are the other personalities who have touched on her life. Their loves and hates, their tragedies and comedies, all are vividly, intimately – and quite uniquely – brought to life.
To The Lighthouse : (La Promenade au Phare) 1927
It is set on a Hebridean island, overlooked by a distant lighthouse, where an English family and assorted guests are enjoying the long summer. Mrs Ramsay is beautiful, dominant generous. Her power is gentle but irresistible. All of them – her eccentric and demanding husband, her flock of children, the lovers, the crusty old writer, the independent woman painter, the awkward young academic – are drawn into her sphere of influence. She flatters vanities, builds friendships, protects her own. Her husband's passion is for abstract truth : hers is for reality, in particular the reality of love, married life and family. But the summer ends. War and death brings changes. The next journey to the lighthouse is a very different one.
Orlando : 1928
In which the hero, who suddenly becomes a heroine, eludes death to live from the reign of Elizabeth I to the end of the 1920s. The author uses the character to explore the social and political position of women, societal constructions of sexual identity, and the situation of the woman author.
Jacob's Room : (La Chambre De Jacob) 1922
Set in pre-war England, the novel begins in Jacob's childhood and follows him through college at Cambridge, and then into adulthood. The story is told mainly through the perspectives of the women in Jacob's life, including the repressed upper-middle-class Clara Durrant and the uninhibited young art student Florinda, with whom he has an affair. His time in London forms a large part of the story, though towards the end of the novel he travels to Italy, then Greece. Jacob eventually dies in the war and in lieu of a description of the death scene, Woolf describes the empty room that he leaves behind.