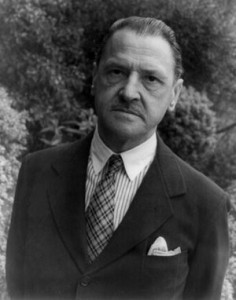 (1874 - 1965)
William Somerset Maugham was born in Paris on January 25th, 1874 to a lawyer and a mother who died when he was only eight years old after the birth of a child who survived for only a day. He lost his father too at the age of ten, and was taken to Whitstable to live with his aunt and uncle. Suffering from a bad stammer, he received a classic public school education at King's school in Canterbury, Kent. He then studied at Heidelburg university where he read philosophy and literature. Soon after he studied in London, eventually qualifying as a surgeon at St Thomas's hospital. He conducted his year's medical practice in the slums of the East End. It was with a play performed in 1907 called Lady Frederick that Maugham achieved fame. By the next year the author had four plays running concurrently in the capital. Great success as a novelist came with Of Human Bondage in 1915 which was autobiographical in all but the names he chose. By the time of its publication he had met Sylvie Wellcome, daughter of the famous Dr Barnardo. He married her in 1917 but they lived apart for much of their lives. Despite his marriage and many affairs, evidence suggests that he was largely homosexual in his interests although he was repressed initially for fear of being imprisoned like Oscar Wilde. From 1914 onwards, Maugham spent a great deal of his time travelling with his close companion Gerald Haxton. He moved to Paris where he would strike up a successful working relationship with Laurence Housman and write a number of plays that would be run in London from 1908. At the outbreak of The Great War, Maugham, at age 40 and 5'6" was both too old and too short to enlist in the military so he joined a British Red Cross ambulance unit attached to the French Army, becoming like his comtemporaries, one of many Literary Ambulance Drivers. Before long Maugham was recruited for a far more interesting assignment as secret agent in Geneva and then Petrograd. In Russia, he was given the rather mammoth job of attempting to prevent the Russian Revolution from starting. Maugham took to the South Seas, where he visited the island of Tahiti and on which he based his novel The Moon and Sixpence. Sickness would then force Maugham to return and remain in a Scottish tuberculosis sanatorium. However, on recovery, he returned to the Far East and collected imperial information and experiences that would form the basis of many short stories, plays and novels. Returning to settle in France in 1928, Maugham bought a villa in St. Jean Cap Ferrat on the French Riviera called Mauresque (Moorish style) where he enjoyed a near royal lifestyle. This house was attended by numerous writers and politicians such as Winston Churchill. From early January 1938 until the end of March 1938 Maugham travels in India, meeting the venerated Indian holy man Sri Ramana Maharshi, returning to France in April. The oncoming war would not allow Maugham to remain in France indefinitely. On September 1st, 1939 the German Army invaded Poland and reached Paris by June 14th, 1940. Maugham was forced to flee late one night with nothing but a single suitcase. Following a recovery period he spent a short time in England and then decided to settle in the United States for the duration of the war. First in South Carolina continuing to work on the The Razor's Edge, then in Hollywood, California, working on the screenplay for the movie version of the same novel. In lieu of a cash payment for his screenplay, as a renown and respected art collector, the studio gave him a rather expensive Impressionist painting which immediately went into Maugham's art collection. The studio eventually used another person's screenplay, but they allowed him to keep the painting for services rendered. He died on December 16th, 1965 at the age of ninety-one and his remains were scattered near the Maugham Library, The King's School in Canterbury. He wrote prolifically.
I particularly like this quote : "There are three basic rules for writing a novel. Unfortunately nobody knows what they are".
My selection:
The Razor's Edge : (Le Fil Du Rasoir) 1944
The Razor's Edge tells the story of an American, Larry Darrell, who, traumatized by his experiences as a fighter pilot in World War I, decides to search for some transcendant meaning in his life. The novel tells its story through the eyes of Larry's friends and acquaintances as they witness his personality change after the War. His rejection of conventional life and search for meaningful experience allows him to thrive while the more materialistic characters suffer reversals of fortune. The book was twice adapted into film, first in 1946 starring Tyrone Power and Gene Tierney and a modern adaptation 1984 version starring Bill Murray in the lead, with Tibet replacing India as the place of Darrell's enlightenment.
The Moon And The Sixpence : (L'envoûté) 1919
It is the story of Charles Strickland (or actually Paul Gauguin), an artist, whose rejection of Western civilization led to his departure for Tahiti. There he is blinded by leprosy but continues painting. The novel is written largely from the point of view of the narrator, who is first introduced to Strickland through the latter's wife. Strickland strikes him (the narrator) as unremarkable. Certain chapters entirely comprise stories or narrations of others, which the narrator recalls from memory. Strickland is a well-off, middle-class stockbroker in London sometime in late 19th or early 20th century. Early in the novel, he leaves his wife and children and goes to Paris. He lives a destitute but defiantly content life there as an artist (a painter), lodging in run-down hotels and falling prey to both illness and hunger. Strickland, in his drive to express through his art what appears to continually possess and compel him on the inside, cares nothing for physical discomfort and is indifferent to his surroundings. He is generously supported, while in Paris, by a commercially successful but hackneyed Dutch painter, Dirk Stroeve, a friend of the narrator's, who immediately recognises Strickland's genius. After helping Strickland recover from a life-threatening condition, Stroeve is repaid by having his wife, Blanche, abandon him for Strickland. Strickland later discards the wife; all he really sought from Blanche was a model to paint, not serious companionship, and it is hinted in the novel's dialogue that he indicated this to her and she took the risk anyway. Blanche then commits suicide – yet another human casualty in Strickland's single-minded pursuit of art and beauty; the first ones being his own established life and those of his wife and children. After the Paris episode, the story continues in Tahiti. Strickland has already died, and the narrator attempts to piece together his life there from recollections of others. He finds that Strickland had taken up a native woman, had two children by her, one of whom dies, and started painting profusely. We learn that Strickland had settled for a short while in the French port of Marseilles before traveling to Tahiti, where he lived for a few years before finally dying of leprosy. Strickland left behind numerous paintings, but his magnum opus, which he painted on the walls of his hut before losing his sight to leprosy, was burnt after his death by his wife per his dying orders. The inspiration for this story, Gauguin, is considered to be the founder of primitivism in art. The main differences between Gauguin and Strickland are that Gauguin was French rather than English, and whilst Maugham describes the character of Strickland as being largely ignorant of his contemporaries in Modern art, as well as largely ignorant of other artists in general, Gauguin himself was well acquainted with and exhibited with the Impressionists in the 1880s and lived for a while with Van Gogh in southern France.
Mrs Craddock : 1902
Edward Craddock is a thoroughly good man. He may lack his wife Bertha's education, but he is unfailingly good-humored, handsome, placid, and popular. It is hardly surprising that Bertha adores him. But expending all one's passion, all one's spirit, on a man who is so undemonstrative, so unimaginative, can be very trying, as Bertha soon discovers. In this penetrating study of an unequal marriage, W. Somerset Maugham explores the nature of love and happiness and finds that the two rarely coincide.
The Painted Veil : (La Passe Dangereuse) 1925
Set in England and Hong Kong in the 1920s, The Painted Veil is the story of the beautiful but love-starved Kitty Fane. When her husband discovers her adulterous affair, he forces her to accompany him to the heart of a cholera epidemic. Stripped of the British society of her youth and the small but effective society she fought so hard to attain in Hong Kong, she is compelled by her awakening conscience to reassess her life and learn how to love.The Painted Veil is a beautifully written affirmation of the human capacity to grow, to change, and to forgive.