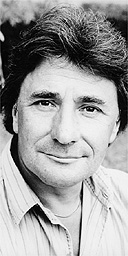 (1938 - 2005)
William Corlett was born in Darlington, County Durham on the north Yorkshire coast on 8th October 1938. He was the son of Harold and Ida (Allen) Corlett. His prep school years were unhappy, and it was a relief to him - and his loving parents - when he went on to Fettes College in Edinburgh, about which he spoke fondly, though with not nearly as much admiration as he did of Rada - the shabby 1950s' Rada - which gave him his first taste of the dusty glamour of theatre, where his grown-up life began. Then he was trained as an actor at the Royal Academy of Dramatic Art. For more than 10 years, he worked in repertory companies all over the country, most notably in Perth, under the direction of Joan Knight. He played for Robert Atkins at the open air theatre in Regent's Park, London, and in the West End in Bonne Soupe (1962), starring Coral Browne. He started a literary career during the 1960s. He was soon writing for the stage as well as appearing on it, with his first play, Another Round, published in 1963. Others were to follow, notably The Gentle Avalanche (1964) and his comedy Return Ticket (1966), both performed in London. This theatrical experience was to come in useful later when it came to adapting stories, his own or those by others, for the stage or screen, winning him numbers of prestigious awards over the years.He wrote plays and adult novels as well as the children's novels for which he is particularly remembered. Several of his works were adapted for the screen. Living in the Hertfordshire countryside, he and his black Labrador puppy Charlie would go for long walks twice a day in the nearby woods. After discovering secret paths and unexpected places and sometimes meeting badgers and foxes, Corlett was inspired to write a sequence of novels under the overall title The Magician's House. This featured talking animals plus a magician, Stephen Tyler, loosely based on the Elizabethan alchemist John Dee. Corlett's then wrote two stories with overtly gay themes. Now and Then (1995) and Two Gentlemen Sharing (1997). But by 2004 Corlett was seriously ill. Supported by his beloved partner Bryn Ellis, he put up a brave fight against the cancer that was slowly consuming him. Corlett died in Sarlat in France on 16th August 2005.
My selection:
Now and Then : (1995)
It describes 50-year-old Christopher Metcalfe returning to his childhood home after his father's death. While there he remembers the passion he once had at school for another boy, concluding that this great love and the difficulties it led to had a crippling effect upon him during his adult life. Here, he confronts memories of his time at public school and relives the intense, passionate affair he shared with fellow student Stephen Walker. This forces him to come to terms with himself at last. A lonely, repressed middle-aged man haunted by a schoolboy romance that ended in tears and left him blighted for thirty years. Half of the action takes place in a fictitious public school. Once you start to delve into this book, it soon starts to charm you, beguile you and bewitch you. I can't think of many books that I have read lately that I have been so reluctant to put down. In part it is the style. Cool, straightforward inconspicuous. It must help here that whilst this was Corlett's first novel for adults, published at the age of 57, he had actually already written a series of much loved children's books. Corlettt is a master of character. You can't help but feel for the younger Chris, in all his teenage passion and willful self deception. Even the older Chris, desiccated shell of a man that he is, defending his inner life like a castle keep, incited sympathy; and the end shows that he can, perhaps can open out again. Stephen, the 'love of his life' is the type, sexy, passionate but ultimately incapable of commitment. Then there is Chris's mother, just widowed, embarking on a parallel voyage of self-discovery to that of her son, the sister from hell, and the long term female friend, with her own off-on relationships, who doesn't quite know whether she is a fag-hag or not. The schoolboy love affair seizes you by the throat. You want it to succeed in spite of its impossibility, its inability to tell the difference between love and lust. But can any of us really see that boundary? Wild, romantic love, which can strike us at any age. The narrative device of a book switching back and forth in time has become a clich? and can easily irritate, Corlett carries it off almost perfectly , partly because it is so carefully orchestrated. The interplay of the Chris of "now", and the "Kit" of thirty years ago raises interesting question of identity (in what sense, and how far am the "same" man as my teenage self?), marching inexorably towards a common meeting point, in Granada of all places. The ending itself carries a twist. You know that Chris has to meet Stephen again before he can finally be released from the spell. And open himself up to the potential of mature love, potentially even with the schoolboy nuisance whom he had earlier dismissed. Perhaps the ultimate value of this book is as a tribute to the "power of love" (for good and ill). Whilst the gay elements are significant - in making the love that much more impossible, it could also be read as a classic love story.
Two Gentlemen Sharing : (1997)
This is more in the nature of gay slapstick, when male lovers Rick and Bless move into the big house of a small English village, provoking a predictably suspicious reaction before peace prevails. The entire stodgy, gossipy village of Bellingford is curious about the new owners of grand Hall House, "two gentlemen sharing," and what this euphemism implies. London playwright Richard Charteris (called, aptly, "Rich"), doubly blessed with an inheritance and a hit play, Manhattan Boh me, has acquired the stately house as a home for himself and his new young lover, actor-model-nothing-in-particular "Bless" Maynard-- without giving much thought as to what his neighbors might think. When Rich leaves to close a Broadway deal, however, Bless's attempts to fit into village life throw the local reactionaries, eccentrics and busybodies into a collective tizzy. With its gay twist--Bless and Rich aren't the only characters with alternative lifestyles--this casually witty tale expands the boundaries of the typical Home Counties comic novel. Moving along at the brisk pace of a West End farce, the novel also co-opts the stock characters of that genre, featuring country types like Doris Day, a droll charwoman who is much savvier than her dim-witted employers; Bessie Sugar, a meddlesome shopkeeper; and Brigadier Jerrold, a conservative retired brigadier who cross-dresses and passes as his own sister, "Phyllis." Other villagers include Laurence Fielding, a crotchety closeted architect; Maggie Heston, a histrionic and uncensored actress; and a drop-dead gorgeous Italian and his hot-blooded lesbian sister. Assorted slapstick subplots converge on a skinhead-attended road show-turned-brawl and a dance recital, as this breezily light entertainment floats to a happy conclusion.