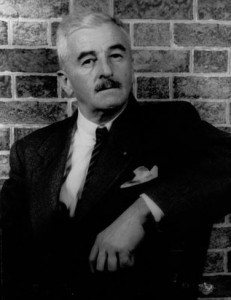 (1897 - 1962)
William Harrisson Faulkner was born on September 25th, 1897, in New Albany, Mississippi, the first of four sons born to Murry and Maud Butler Falkner. Faulkner's father was Murray Falkner (as his name was then spelled), who moved from job to job before becoming the business manager of the University of Mississippi, where he and his family lived for the rest of his life. William demonstrated artistic talent at a young age, drawing and writing poetry, but around the sixth grade he began to grow increasingly bored with his studies. During the first World War, he joined the Canadian Royal Flying Corps ­ he was too short to join the U.S. Air Force ­ but never fought. The day he graduated from the Flying Corps the Armistice was signed. The only "war injury" he received was the result of getting drunk and partying too hard on Armistice Day, wherein he injured his leg. After the war, Faulkner came back to Oxford, enrolled as a special student at the University of Mississippi and began to write for the school papers and magazines, quickly earning a reputation as an eccentric. In New Orleans he met the novelist Sherwood Anderson, whose book Winesburg, Ohio was a pillar of American Modernism. His friendship with Anderson inspired him to start writing novels, and in a short time he finished his first novel, Soldier's Pay. Faulkner wrote four more novels between 1926 and 1931: Mosquitoes (1927), Sartoris (1929), The Sound and the Fury (1929), and As I Lay Dying (1930), but none of them sold well, and he earned little money in this period. Finally, in 1931, Sanctuary was published and became financially successful. Suddenly Faulkner's work began selling, and even magazines that had rejected his stories in the past clamoured to publish them. Even Hollywood sought after him to write. Faulkner's first big purchase was a large mansion in Oxford, where he lived and wrote, gaining a reputation as a reclusive curmudgeon. Between this time and the 1940s, Faulkner wrote seven more novels, including his famous Absalom, Absalom! and Light in August. In 1950, he was awarded the Nobel Prize for Literature, and, in typical Faulkner fashion, he sent his friends into a frenzy by refusing to attend the ceremony (although he eventually did go). In the latter part of the 1950s, he spent some time away from Oxford, including spending a year as a writer-in-residence at the University of Virginia. He returned to Oxford in June of 1962 and died of a heart attack on the morning of July 6th of that year.
My selection:
As I Lay Dying : (Tandis que J'agonise ) 1930
This novel demonstrates Faulkner's comic as well as his tragic vision, in his account of the death of poor white Addie Bundren, and of her children's grotesque attempts to fulfil her wish to be buried in Jefferson. The plot of As I Lay Dying is deceptively simple. The mother, Addie, is dying, and wants to make sure that her dying request is granted, namely that she be buried with her family in Jefferson. She also wants to make sure that the coffin is made well, so she has Cash build it right outside her bedroom window. Once she dies, the family proceeds to take her body to Jefferson. Jewel rescues the coffin after it is nearly lost in the river; Cash breaks his leg during this episode. Darl tries to burn the coffin later on and Jewel rescues it again. They finally reach Jefferson and Addie is buried. Dewey Dell turns Darl in and he is sent to prison. Dewey Dell is tricked into having sex with MacGowan in exchange for an abortion drug, but he gives her a placebo. Anse buys new teeth and finds a wife. There is flood, fire and crime, all observed with Faulkner's inimitable irony.
Mosquitoes : (Moustiques) 1927
Mosquitoes centers around a colorful assortment of passengers, out on a boating excursion from New Orleans. The rich and the aspiring, social butterflies and dissolute dilettantes are all easy game for Faulkner's barbed wit in this engaging high-spirited novel which offers a fascinating glimpse of Faulkner as a young artist. The novel is organized into six sections: a prologue which introduces the characters, four body sections each of which documents a day of the yacht trip hour-by-hour, and an epilogue which returns the characters, changed or unchanged, to their lives off the boat.