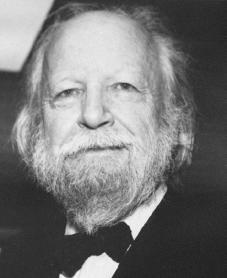 (1911 - 1993)
William Gerald Golding was born on 19th September 1911 in Saint Columb Minor in Cornwall. He was raised in a 14th-century house next door to a graveyard. His mother, Mildred, was an active suffragette who fought for women's right to vote. His father, Alex, worked as a schoolmaster. William received his early education at the school his father ran, Marlborough Grammar School. He grew up in the life of luxury and soon realized that he was very talented at his school studies. Then, William went on to attend Brasenose College at Oxford University. His father hoped he would become a scientist, but William opted to study English literature instead. Despite his father's protests, Golding eventually decided to devote his career to literature, where he became one of the most famous English novelists ever. After college, Golding worked in settlement houses and the theater for a time. Eventually, he decided to follow in his father's footsteps. In 1935 Golding took a position teaching English and philosophy at Bishop Wordsworth's School in Salisbury. Golding's experience teaching unruly young boys would later serve as inspiration for his novel Lord of the Flies.Although passionate about teaching from day one, in 1940 Golding temporarily abandoned the profession to join the Royal Navy and fight in World War II.Golding spent the better part of the next six years on a boat, except for a seven-month stint in New York, where he assisted Lord Cherwell at the Naval Research Establishment. While in the Royal Navy, Golding developed a lifelong romance with sailing and the sea. During World War II, he fought battleships at the sinking of the Bismarck, and also fended off submarines and planes. Lieutenant Golding was even placed in command of a rocket-launching craft.Of his World War II experiences, Golding has said, "I began to see what people were capable of doing. Anyone who moved through those years without understanding that man produces evil as a bee produces honey, must have been blind or wrong in the head." Like his teaching experience, Golding's participation in the war would prove to be fruitful material for his fiction. In 1945, after World War II had ended, Golding went back to teaching and writing. In 1954, after 21 rejections, Golding published his first and most acclaimed novel, Lord of the Flies. Two decades later, at the age of 73, Golding was awarded the 1983 Nobel Prize for Literature. In 1988 he was knighted by England's Queen Elizabeth II. On June 19, 1993, Golding died of a heart attack in Perranarworthal, Cornwall.
My selection:
Lord Of the Flies : (Sa Majesté des Mouches) 1954
It tells the story of a group of English boys marooned on a tropical island after their plane is shot down during a war. It is fiction but the book's exploration of the idea of human evil is to some extent based on Golding's experience with the violence and savagery of human beings during World War II. In exploring the breakdown into savagery of a group of boys free from the imposed moral constraints of civilization and society, Lord of the Flies dramatizes a fundamental human struggle: the conflict between the impulse to obey rules, behave morally, and act lawfully and the impulse to seek brute power over others, act selfishly, behave in a way that will gratify one's own desires, scorn moral rules, and indulge in violence.
The first set of impulses might be thought of as the "civilizing instinct," which encourages people to work together toward common goals and behave peacefully; the second set of impulses might be thought of as the "barbarizing instinct," or the instinct toward savagery, which urges people to rebel against civilization and instead seek anarchy, chaos, despotism, and violence. The novel's structure and style are extremely straightforward. The book largely excludes poetic language, lengthy description, and philosophical interludes.
The novel is also allegorical, meaning that characters and objects in the book directly represent the novel's central thematic ideas. Because its story is allegorical, Lord of the Flies can be interpreted in many ways. During the 1950s and 1960s, many readings of the book connected it with grand historical, religious, and psychological schemes: the book was said to have dramatized the history of civilization, the history of religion, or the struggle among the Freudian components of unconscious identity, ego, and superego. Since the book deals indeed with fundamental human tendencies, there is some truth in each of these readings, but it is important to remember that the novel's philosophical register is really quite limited (almost entirely restricted to the two extremes represented by Ralph and Jack) and is certainly not complex or subtle enough to offer a realistic parallel to the history of human endeavors as a whole.