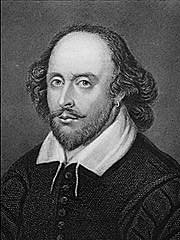 (1564 - 1616)
William Shakespeare was born in late April 1564 in Stratford-upon-Avon to John Shakespeare and Mary Arden. It is generally accepted that he attended the King's New School, the Stratford grammar school known for its classical curriculum, because of his knowledge of Latin classics and written scenes recalling grammar school experiences such as exercises memorized by schoolboys. It is known for certain that at age 18, he married Anne Hathaway with whom he had 3 children. Susanna was born May 26th, 1583 and the twins, Judith and Hamnet, were born February 2nd, 1585. It is not known for sure how he supported his family or where they lived but by the early 1590's, he was established in London as both an actor and playwright. The majority of his money however, did not come from his writing or performances but from his position as a sharer in the Lord Chamberlain's Men, which earned him 1/10 of the company's profit. This was enough to allow Shakespeare to become a successful real estate investor. The public acting of women was prohibited in the England of Shakespeare's time and so writers would often emphasize the femininity of their female characters so as to remove the necessity of an actual female in the role. Shakespeare was greatly responsible for roles in which female characters spent much of their time disguised as boys.
My selection:
THE TEMPEST :
Alonso (the King of Naples), his brother Sebastian, his son Ferdinand, Antonio's counselor Gonzalo, and Antonio (brother of Prospero, the usurped Duke of Milan) are on a ship with sailors caught in a tempest at sea. The storm scares all of the nobleman to abandon ship, fearing it split in half. When the storm subsides, the exiled Duke Prospero and his daughter Miranda appear on the island they have inhabited for 12 years. Miranda tells him she saw the ship crack in the storm, but Prospero calms her, explaining it was a magical illusion he created. He explains he was once Duke of Milan, but his brother Antonio took over when he began deeply studying literature, eventually teaming with Alonso to banish Prospero and Miranda and abandon them at sea, where they luckily landed on the island and survived since Gonzalo had given Prospero money, clothes, and his sorcerer books in the boat. Now, he explains, his enemies have sailed by, so he created the tempest to shipwreck them. He causes her to sleep and calls his spirit Ariel to come. Ariel verifies that the nobles are safe on the island, while their ship is deep in a hidden harbor with the crew asleep; further, the remainder of the fleet has returned to Naples believing Alonso is dead. We learn that Prospero rescued Ariel from the "foul witch" Sycorax and will free Ariel himself when his plans for the nobles are complete. Sycorax had imprisoned Ariel in a tree for refusing to do her evil, then, after her death, Prospero freed him. She also had a deformed son, Caliban, whom Prospero commands as his slave (Note that Caliban anagrams from a slightly misspelled canibal). Hidden, Ariel sings a song and scares Alonso's son Ferdinand as he wanders around the island, eventually meeting Prospero and Miranda. Both Miranda and Ferdinand immediately fall in love, but Prospero (although approving) pretends to be gruff and critical toward Ferdinand. In another part of the island, Alonso, Sebastian, Antonio, Gonzalo, and the lords Adrian and Francisco are wandering. Alonso fears Ferdinand is dead, but Gonzalo assures him he may be living, since they are living. Ariel causes all to sleep, except Sebastian and Antonio. Then, Antonio convinces Sebastian to kill Alonso, so Sebastian will become heir to Naples' throne. Prospero, though, has Ariel awaken Gonzalo to warn Alonso. Elsewhere, Caliban is gathering wood when the jester Trinculo, then the drunkard Stephano (both from the ship) come upon them. Caliban takes Stephano to be a god (the Man in the Moon), and vows to serve him. At Prospero's cave, Miranda meets Ferdinand carrying logs for her father. Here they exchange their love for one another and vow to be married. Prospero, watching in secret, approves. Elsewhere, Caliban convinces Stephano to kill Prospero and seize Miranda so they can be king and queen. Ariel, though, overhears and will warn Prospero. Alonso and others are wandering when Ariel and other spirits bring in a table of food. Before they can eat, Ariel appears and takes the food away, then informs Alonso, Sebastian, and Antonio that it is their evilness toward Prospero that has caused their current sorrows (shipwreck, loss of Ferdinand, etc.). At the cave, Prospero presents Miranda to Ferdinand, though instructing him not to "break her virgin-knot" until after they are properly married. He celebrates by presenting them with a show by the spirits Iris, Ceres, and Juno. However, Caliban, Stephano, and Trinculo show up to kill Prospero. He, however, creates a distraction with extravagant garments, then sends the fairies after them like hounds hunting foxes. In the final act, Prospero brings the nobles to his cell and reveals himself to them. He forgives Alonso, Antonio, and Sebastian then reveals that Ferdinand is safe with Miranda. Alonso restores Prospero's dukedom and Prospero promises to return all home safely to Italy. As for Caliban, he promises to mend his ways while Stephano and Trinculo repent for plotting to kill Prospero.
HAMLET :
Hamlet is the son of the late King Hamlet (of Denmark), who died two months before the start of the play. After King Hamlet's death, his brother, Claudius, becomes king, and marries King Hamlet's widow, Gertrude (Queen of Denmark). Young Hamlet fears that Claudius killed his own brother (Hamlet's father) to become king of Denmark, greatly angering Hamlet. Two officers, Marcellus and Barnardo, summon Hamlet's friend Horatio, and later Hamlet himself to see the late King Hamlet's ghost appear at midnight. The ghost tells Hamlet privately that Claudius had indeed murdered King Hamlet by pouring poison in his ear. Hamlet is further enraged and plots of how to revenge his father's death. In his anger, Hamlet seems to act like a madman, prompting King Claudius, his wife Gertrude, and his advisor Polonius to send Rosencrantz and Guildenstern to spy on Hamlet and figure out why he is acting mad. Hamlet even treats Polonius' daughter Ophelia rudely, prompting Polonius to believe Hamlet is madly in love with her, though Claudius expects otherwise. Polonius, a man who talks too long- windedly, had allowed his son Laertes to go to France (then sent Reynaldo to spy on Laertes) and had ordered Ophelia not to associate with Hamlet. Claudius, fearing Hamlet may try to kill him, sends Hamlet to England. Before leaving, however, Hamlet convinces an acting company to reenact King Hamlet's death before Claudius, in the hopes of causing Claudius to break down and admit to murdering King Hamlet. Though Claudius is enraged, he does not admit to murder. Hamlet's mother tries to reason with Hamlet after the play, while Polonius spied on them from behind a curtain. Hamlet hears Polonius, and kills him through the curtain, thinking the person is Claudius. When finding out the truth, Hamlet regrets the death, yet Claudius still sends him to England, accompanied by Rosencrantz and Guildenstern with orders from Claudius that the English kill Hamlet as soon as her arrives. After Hamlet leaves, Laertes returns from France, enraged over Polonius' death. Ophelia reacts to her father's death with utter madness and eventually falls in a stream and drowns, further angering Laertes. En route to England, Hamlet finds the orders and changes them to order Rosencrantz and Guildenstern killed, as does occur, though Hamlet is kidnapped by pirates one day later. The pirates return Hamlet to Claudius (for a ransom), and Claudius tries one last attempt to eliminate Hamlet: he arranges a sword duel between Laertes and Hamlet. The trick, however, is that the tip of Laertes' sword is poisoned. As a backup precaution, Claudius poisons the victory cup in case Hamlet wins. During the fight, the poisoned drink is offered to Hamlet, he declines, and instead his mother, Gertrude, drinks it (to the objection of Claudius). Laertes, losing to Hamlet, illegally scratches him with the poisoned sword to ensure Hamlet's death. Hamlet (unknowingly), then switches swords with Laertes, and cuts and poisons him. The queen dies, screaming that she has been poisoned and Laertes, dying, admits of Claudius' treachery. Weakening, Hamlet fatally stabs Claudius, Laertes dies, and Hamlet begins his death speech. Though Horatio wants to commit suicide out of sorrow, Hamlet entreats him to tell the story of King Hamlet's death and Rosencrantz and Guildenstern's deaths to all. Fortinbras, the prince of Norway, arrives from conquest of England, and Hamlet's last dying wish is that Fortinbras become the new King of Denmark, as happens.
OTHELLO :
In a street in Venice, the villain Iago complains to Roderigo that Othello the Moor chose Cassio to be his lieutenant, rather than Iago. Iago vows to stay loyal to Othello only as long as it works to his advantage. They then inform Barbantio that his daughter Desdemona is sleeping with Othello. Barbantio hesitates to believe them, since Roderigo has been an unwelcome suitor to his daughter, but he soon finds she is missing. At Othello's house, Cassio and other officers arrive summoning Othello to the Duke of Venice on urgent matters. Barbantio then arrives and orders Othello arrested, until he learns of the Dukes summons. At the Duke's chambers, Barbantio accuses Othello of using spells and potions to win Desdemona. He, however, proves this is not so, and Barbantio reluctantly blesses their marriage. We then learn that the Turkish fleet (the Ottomites) is sailing toward Cypress. The Duke asks Othello to go defend it, and Desdemona asks to come with. Othello asks Iago to take care of Desdemona and follow him to Cyprus. Roderigo laments to Iago that he has lost Desdemona since Othello has married her. Iago convinces Roderigo to make money by selling his lands and fighting in wars. Over time, Iago feels Othello will tire of Desdemona and she will again become available. Iago, for his own part, reveals to the audience that he is only using Roderigo for his money. He also begins to plot his revenge against Othello for choosing Cassio. At Cyprus, the governor Montano reports that a tempest has droned the Turkish fleet, effectively eliminating their threat. Next, Cassio arrives, then Iago, his wife Emilia, and Desdemona, and lastly, Othello. In private, Iago tells Roderigo he believes Desdemona is in love with Cassio, based on their flirting before Othello arrived. He convinces Roderigo to pick a fight with Cassio to get Cassio in trouble with the local authorities. Alone, Iago reveals his plans to make Othello jealous of Cassio and/or Roderigo for courting Desdemona. That evening, after supper, Othello and Desdemona head to bed, while Iago arrives with wine, hoping to get Cassio drunk. He does, then Roderigo eggs him on, and a fight ensues, pulling Montano into the melee. Othello breaks it up, and after Iago explains (pretending not to know Roderigo), Othello tells Cassio he is no longer his lieutenant. Privately, Iago convinces Cassio to entreat Desdemona to ask Othello to reinstate him. Alone, Iago reveals that he'll use their private meetings to convince Othello that Desdemona is disloyal. At the Citadel (Othello's lodging), Cassio entreats Desdemona to help him. When Iago and Othello appear in the distance, Cassio leaves. Desdemona relays Cassio's penance, then leaves herself. Iago begins dropping hints of his "suspicions" about Cassio and Desdemona to Othello, to which Othello probes Iago for his thoughts, and Iago pretends to reluctantly reveal them. Thus, Iago plants the seed that Desdemona is being disloyal to Othello. All throughout, Othello keeps stating how he genuinely believes Iago is of "exceeding honesty". Iago leaves and Desdemona appears calling Othello to dinner. He, already becoming (wrongly) suspicious, is rude to her when she tries to cure his "headache" with her handkerchief, given to her by Othello as his first gift to her. They leave, and Emilia appears and picks up the handkerchief, remembering that her husband Iago has asked her to steal it repeatedly before. Iago appears and takes it from her; then privately states that he'll plant it at Cassio's room to fuel Othello's suspicions. Othello reappears, and reveals to Iago how greatly depressed he has become. Othello yells at Iago and demands proof of the suspicions which Iago has planted in his head. Iago then claims he has heard Cassio talk of his love for Desdemona in his sleep. Iago also claims he's seen Cassio wipe his beard with Desdemona's handkerchief. This being the final straw, Othello names Iago his lieutenant and orders Iago to kill Cassio within the next three days. As for Desdemona, Othello wishes her dead too. In her room, Desdemona and Emilia look for the lost handkerchief. Othello appears and claims to have a cold and asks to see it. Desdemona says she doesn't have it, but promises it is not lost. Othello, enraged, leaves. Cassio again appears and entreats Desdemona to talk to Othello. She tells him she has tried, but Othello has become irritable. Cassio's mistress Bianca appears and he asks her to copy the handkerchief he found in his room (Desdemona's), since he likes it, but fears someone will ask for it soon. At his chamber, Iago eggs Othello on more as Othello slowly goes crazy, since Iago tells him Cassio admitted sleeping with Desdemona. Iago rejoices as Othello goes into a seizure/trance. Iago convinces Othello to hide while he questions Cassio about Desdemona. In reality, Iago plans to speak to Cassio about Bianca, eliciting laughter and smiles. Othello sees this and thinks they are talking about escapes with Desdemona. Bianca then appears, enraged, and throws the handkerchief at Cassio, accusing him of getting it from another lady. This, too, Othello sees. After Cassio and Bianca leave, Iago comes to Othello and convinces him to strangle Desdemona in bed that night, while Iago promises to take care of Cassio. The noble Lodovico from Venice arrives at Cyprus and gives Othello a letter. Already angered, the letter enrages Othello as it orders him home to Venice and Cassio to remain in Cyprus, taking over Othello's command. Desdemona tries to calm him and he strikes her, shocking Lodovico. Iago tells him Othello has changed, but will not reveal more. At the citadel, Othello questions Emilia about Desdemona's honesty; she swears Desdemona is honest, though Othello summons Desdemona and accuses her of being disloyal and a shore, all while himself weeping. When Othello leaves, Desdemona summons Iago and Emilia to comfort her. Emilia tells Iago she belies an evil villain hath put the thoughts into Othello's head. Ironically, Iago replies "it is impossible". Separately, Roderigo comes to Iago complaining that he has given Iago all his jewels to give to Desdemona, and has seen no positive results from her. Iago calms him down and explains that Othello and Desdemona are leaving, by order of Venice, and Cassio will take over in Cyprus. However, Iago says, if Cassio were to die, Othello would have to stay in Venice, and Roderigo would be able to have Desdemona. Iago tells Roderigo to wait outside Bianca's house after midnight, then kill Cassio when he leaves. Iago promises to help, if necessary. At supper, Lodovico and Othello go on a walk, and Othello orders Desdemona to wait, alone, in her bedroom for him. At night, in a street, Iago sets Roderigo up to kill Cassio. Iago thinks to himself that both must die, or his plotting will be revealed. Cassio appears and Roderigo attacks him, cutting off one of Cassio's legs, during which Cassio wounds Roderigo. Othello overhears Roderigo's cries for help and thinks Cassio is dead; he thus returns to Desdemona. Meanwhile, Iago, who had left, reappears to "investigate" the noise. Lodovico and Gratiano also come. Iago finds Cassio, who's still alive. Alone, he finds Roderigo and stabs him, assuring his death. Iago then "discovers" Roderigo and calls the others. Bianca appears and Iago accuses her of being in cohorts with Roderigo. He calls her a strumpet and takes her into custody. Othello then arrives back at Desdemona's chamber, ready to kill her, even though he still finds her beautiful. Despite her pleadings, he smothers her with a pillow, though she doesn't completely die. Emilia appears and tells Othello that Roderigo is dead, but Cassio is alive. She then hears Desdemona cry for help and tries to help her, but she dies. Emilia asks Othello why he killed her and he says Iago told him she had slept with Cassio. Montano, Gratiano, and Iago appear and Emilia accuses Iago of being a liar. He admits he told Othello Desdemona was sleeping with Cassio. Gratiano tells us Desdemona's father has died over the grief of losing her. Othello explains that Cassio had Desdemona's handkerchief, given to him by her, but Emilia laments that she found it and gave it to Iago. At this, Iago tries to kill Emilia, but Gratiano and Montano hold him back. Othello, in a rage, comes at Iago, but he escapes and kills his wife (Emilia), then flees. Montano and Gratiano take Othello's sword, then chase Iago. Othello finds another weapon, then Lodovico, Cassio, Montano, and Iago (captured) reappear. This time Othello wounds Iago, but is disarmed. All is revealed as letters explaining Iago's deeds were found on Roderigo, and he, when near death, professed that Iago had put him up to attacking Cassio. In a closing speech, Othello pulls a hidden dagger and kills himself. Fittingly, Lodovico leaves Iago for Cassio to sentence and torture.
MACBETH :
In a thunderstorm, three witches decide to meet again on the heath "after the deed is done." Next, a captain reports to King Duncan that Macbeth beat Macdonwald in battle. Ross adds that the Thane of Cawdor was traitorous to Scotland during the battle. The three witches confront Macbeth and Banquo on their way home from the battle. They predict that Macbeth will be King of Scotland, and Banquo, though never king himself, will beget rulers. The witches leave and Ross informs Macbeth that he has inherited the title Thane of Cawdor (as also predicted by the witches). Macbeth contemplates the prediction of him being king, and wonders if he should help make it happen. Malcolm reports to King Duncan that Cawdor admitted his traitorous deeds at his execution. The king then warmly greets Macbeth and Banquo. To Macbeth's dismay, King Duncan declares his eldest son, Malcolm, Prince of Cumberland (i.e. the next king). At Inverness Castle, Macbeth's wife learns of his encounter with the witches and decides that she'll persuade Macbeth to fulfill his destiny through foul play. She then learns that King Duncan is coming to her castle to stay the night, strengthening her decision to murder Duncan. Macbeth appears and his wife tells him she'll do the foul deed herself. Duncan arrives and Macbeth tells his wife he doesn't want to murder Duncan. She talks him into it, adding that they'll frame Duncan's own guards with the murder. Past midnight, Macbeth converses with Banquo, then alone, hallucinates that a bloody dagger is in front of him. Macbeth meets his wife and tells her he murdered Duncan. He also begins hearing voices. Macbeth forgets to return the daggers to the king's guards, so his wife does it for him, bloodying herself too, as Macbeth loses himself in insanity. They return to their chambers as Macduff and Lennox appear at the castle gates. Macbeth greets them and they ask to see Duncan. Macduff and Macbeth "discover" the body. Macbeth accidentally admits of the murder, then recants. Duncan's sons, Malcolm and Donalbain, flee to England and Ireland, fearing for their own lives. Subsequently, Macduff and Ross discuss that all have decided that Malcolm and Donalbain bribed the guards to kill Duncan. Consequently, Macbeth is declared king. At Scotland's castle (Forres), Macbeth contemplates how he fears Banquo may give breed to children who may overthrow Macbeth. Macbeth convinces (hires) to men to murder Banquo and his son, Fleance. Macbeth scares his wife by informing her of Banquo and Fleance's impending death. The murderers successfully murder Banquo, but Fleance escapes. At dinner, Macbeth imagines he sees Banquo's ghost causing his wife to excuse the dinner guests. On the heath, The three witches make a brew chanting "double, double, toil and trouble." Macbeth approaches and asks three questions. The witches answer: 1. Beware Macduff, 2. None of woman borne will harm Macbeth, and 3. Macbeth will until Birnam Wood come to Dunsinane Hill. Finally, the ghost of Banquo appears, showing his eight future royal offspring. Lennox and another Lord discuss that Macduff has gone to England to convince the innocent Malcolm to join arms with Northumberland and Siward against Macbeth. They inform Macbeth that Macduff has fled to England. Macbeth vows to fight them at Fife. Lady Macduff laments that her husband, a traitor, is virtually dead. Villains come and kill her son since he supports his father. In England, Macduff and Malcolm agree to fight together against Macbeth. Ross delivers the devastating news to Macduff that his son and wife are dead. A doctor and servant observe Macbeth's wife's sleepwalking and sleep-talking about Duncan's death. Menteith, Angus, Caithness, and Lennox discuss the impending battle with Macbeth and Birnam wood. An Dunsinane Castle, Macbeth is informed that an army of 10,000 is near. At Birnam wood, Malcolm orders his soldiers to cut the trees and use them as disguises. In the castle, Macbeth learns that his wife has died by her own hand, then learns, to his dismay, that Birnam wood is "moving" toward the castle. The army arrives and Macbeth fights and kills young Siward. Next, Macduff and Macbeth fight. Macduff informs Macbeth that he (Macduff) was ripped from his mother's womb, and thus not born of woman. Soon after, Macduff kills Macbeth. Macduff then crowns Malcolm the new King of Scotland.
MUCH ADO ABOUT NOTHING : ( Beaucoup de Bruit pour rien)
In Messina, the governor Leonato, his daughter Hero, and her cousin Beatrice (Antonio's daughter) learn from a messenger that Don Pedro has won victory in a battle and is returning home. He arrives with Claudio, Benedick, and Pedro's bastard brother, Don John. Claudio falls in love with Hero at first sight. Benedick and Beatrice chide one another and trade witticisms. In private, Claudio tells Benedick of his love, but Benedick only teases him. Don Pedro, however, vows to help Claudio by disguising himself as Claudio and making advances to Hero. Leonato's brother Antonio overhears Don Pedro and Claudio's conversation, but believes Don Pedro is in love with Hero, rather than Claudio. Informing Leonato of this, both rejoice at prince Don Pedro's supposed intentions and plan to tell Hero. Don John's servant Conrade informs Don John of Claudio and Pedro's plans to woo Hero for Claudio, but John, who enjoys being grouchy and spreading gloom, plans to attempt to foil the plans. At dinner, while discussing husbands, Beatrice vows to never marry, echoing Benedick's earlier vow. The men arrive in masks: Don Pedro and Hero dance; Benedick and Beatrice dance, and she makes fun of Benedick in general, possibly not knowing she is in fact dancing with him. Don John appears to Claudio, who identifies himself as Benedick, even though Don John knows he's Claudio. Don John tells him Don Pedro is actually in love with Hero, causing Claudio to become depressed. Benedick carries the ruse further, depressing him more. To his relief, though, Don Pedro unites Hero and Claudio in future marriage. Further, Don Pedro plans to convince Beatrice and Benedick to marry one another, even though both has vowed to never marry. Soon, Don John learns of Claudio's engagement to Hero. Still hoping to foil their marriage, he and his servant Borachio plan to brand Hero as a prostitute and thus compromise the marriage. In the orchard/garden, Don Pedro, Leonato, and Claudio discuss Beatrice's "love" for Benedick. Although Benedick is hiding, they know he is there and lead him to believe she loves him; Benedick takes the bait. Similarly, Hero and her servant Ursula Discuss how Benedick is "in love" with Beatrice, while Beatrice herself hides in the trees and listens; she too takes the bait. Separately, Don Pedro and Claudio tease Benedick for being quiet. Don John appears and tells Pedro and Claudio that Hero is a whore/prostitute and will give proof of it the evening before the wedding. At nightfall, Dogberry and Verges instruct the night watch to watch over the city. In hiding, they hear Borachio (drunk) tell Conrade how he heath let Margaret woo him from Hero's bedroom, and thus deceive Don Pedro and Claudio into believing Hero is a whore. The next day, at the wedding, Claudio plans to denounce Hero and will not marry her. The watch arrests Borachio and Conrade, then Dogberry and Verges come to Leonato to tell him of the arrest, though he impatiently shrugs them off. At the wedding, Claudio and Don Pedro accuse Hero of being a whore. Leonato vows to determine if the accusations are true. Further, the Friar suggest they pretend that Hero has died from the accusation, so that if a lie is being propagated, the source may admit the lie out of remorse. Privately, Benedick and Beatrice profess their love for one another. She asks him to prove his love by killing Claudio for wronging Hero. In prison, Dogberry interrogates Borachio and Conrade; the Sexton (recorder) plans to tell Leonato of their crimes. In a courtyard, Benedick charges Claudio to a duel. Before this can occur, Dogberry brings Borachio who admits of his wrongdoings to slander Hero. Leonato, still dissembling that Hero is dead, instructs Claudio to come to his house in the morning, so that he can marry a "cousin" of Hero, who is nearly identical to her (and actually is her). Beatrice and Benedick continue to fall in love. At the tomb, Claudio delivers and epitaph to Hero. Then, in the morning, Benedick asks Leonato for Beatrice's hand in marriage. Further, Hero and Claudio are again engaged to be married. Lastly, it is reported that Don John has been arrested for his deceit and will be punished.
MIDSUMMER NIGHT'S DREAM :
Theseus (the Duke of Athens) announces he will marry Hippolyta, the queen of the Amazons in four days. He hears Egeus' complaint that his daughter Hermia refuses to marry his chosen suitor, Demetrius, since she's in love with Lysander, who Egeus dislikes. Theseus declares Hermia must marry Demetrius, or choose between death or joining a nunnery. Lysander instructs Hermia to flee to the forest with him, so that they can travel to his aunt's house to marry. Hermia's friend, Helena, learns of this and decides to inform Demetrius, whom she likes (and has slept with). Demetrius, though, loves Hermia. Helena hopes they will all meet in the forest. Meanwhile, Quince, Bottom, Flute, Starveling, Snug, and Snout organize a play to be performed at Theseus' wedding. In the forest, Oberon (the King of the Fairies) argues with Titania (the Fairy Queen) that he should have her orphan child as his page. Titania objects, asserting she is queen. The bicker that Oberon loves Hippolyta and Titania loves Theseus. To obtain the boy, Oberon orders the fairy Puck (aka Robin Goodfellow) to obtain a flower from Cupid that causes on to love the first person a person sees. Oberon plans to give it to Titania, so she'll love a vile thing and give him the child. Demetrius and Helena appear, Helena pursuing him, and he fleeing her. Puck arrives with the flower, and Oberon orders Puck to anoint Demetrius with it so he'll love Helena rather than Hermia. Oberon then anoints Titania with the flower. In the forest, Lysander and Hermia lie down to rest. Puck, thinking Lysander is Demetrius, anoints him with the flower. Helena appears and awakes Lysander, who immediately falls in love with her. In the forest, the troupe of players discuss the logistics of their play. Puck appears and transforms Bottom to have an ass' (donkey's) head. The actors flee, but Titania awakes and falls in love with Bottom and orders her fairy servants to attend to him. Puck observes that Demetrius chases Hermia, yet she accuses him of murdering Lysander, and realizes he gave the flower to the wrong man. Oberon tries to remedy this by anointing Lysander with the flower so he'll fall in love with Helena, and he does. However, now both men love Helena, while she believes both are false. Hermia arrives and Helena accuses her of conspiring with the men to tease her. Oberon, realizing Puck has caused these problems, orders him to make a thick fog to separate the four people and force them into a deep sleep, so the spell can wear off. Oberon awakes Titania and transforms Bottom back to a human. Oberon and Titania then make up and love each other again. In the woods, Theseus, Hippolyta, and Egeus appear and awake the four. Demetrius and Lysander inform the men of their love for Helena and Hermia (respectively). The lords agree to let them marry. Separately, Bottom awakes and remember's the night's occurrences. At dinner, they all hear Quince's ten word, tedious, brief, tragical play. In it, Thisby (played by Flute) and Pyramus (played by Bottom) whisper their love through a chink in a wall (played by Snout). They vow to meet at Ninny's tomb, but a lion (played by Snug) attacks Thisby. Pyramus arrives and finds her scarf, assumes she's dead, and kills himself Thisby arrives to find him dead, and kills herself. After the play, at midnight, all go to bed, then the fairies appear and frolic.
TWELTH NIGHT :
In Illyria, the Duke of Illyria, Orsino states he is sick in love with Olivia. Valentine reports to him, however, that she will not see him or any other man for seven years while she mourns the death of her father and brother (both died within the last six months). On the seacoast, Viola and her ship's captain come ashore after their ship sinks. Viola fears her twin brother Sebastian is drowned, but the captain thinks he saved himself by holding onto the floating mast. Upon learning that she is in Illyria, governed by Orsino, she convinces the captain to help disguise her as a male so that she may become a servant to Orsino, and it seems, perhaps try to win his love. At Olivia's house, her uncle, Sir Toby Belch, comes home late, drunk as usual, while Olivia's lady-in-waiting Maria lets him in. Soon, Toby's drinking buddy Sir Andrew Aguecheek shows up. Andrew tells Toby he'll head for home the next day, since Olivia won't let him woo her, but Toby convinces him to stay with them another month and promises to try harder to get Olivia to like him (Andrew). Back at the Duke's palace, he asks Viola (pretending to be a male servant named Cesario) to approach Olivia and woo her on his behalf. Viola (as Cesario) promises to do so, but privately reveals she will not try hard, since she desires Orsino. At Olivia's house, Olivia and her servant Feste (aka Clown) trade witticisms when Maria and Toby (drunk as usual) tell her Viola (as Cesario) is at the door. Learning Viola is come from Orsino, Olivia tells her steward Malvolio to send him away. Finally, though, she agrees to see Viola. Viola speaks to Olivia about Orsino and actually tries to tell her how to distance herself from him. While Viola speaks, Olivia actually starts to fall in love with her (as Cesario). When Olivia makes a pass at Viola, she quickly shuns Olivia off. After Viola leaves, Olivia even has Malvolio send her ring after her (as Cesario). When Viola receives the ring from Malvolio, she realizes Olivia's new love for her and wonders how things will work out now that Orsino loves Olivia, Olivia loves Viola (as Cesario), and Viola loves Orsino. At the seacoast, Sebastian tells Antonio (the captain that rescued Sebastian, but not Viola) of his fears that Viola is drowned. Sebastian heads to Orsino's court, and, though Antonio knows he has enemies there, he follows Sebastian out of pity for his plight. At Olivia's house, Toby and Andrew drink into the night, while the clown entertains them. Maria appears and Toby starts flirting with her. Malvolio, though, shows up and tries to spoil the fun. After he leaves, Maria tells Toby, Andrew, and the Clown how she plans to trick Malvolio into thinking Olivia is in love with him by penning love letters to him in Olivia's hand. Separately, Andrew tells Toby he is running out of money while he tries to win Olivia, and if he fails, he'll blame Toby. At the Duke's palace, the clown sings songs of love, while Viola and Orsino discuss the qualities of love. Orsino bids Viola approach Olivia again with his greeting, even though Viola insists Olivia will not be moved. In Olivia's garden, Toby, Andrew, Olivia's servant Fabian, and Maria hide and listen to Malvolio pompously dream of his "impending" marriage to Olivia, the idea placed in his mind by Maria's deceptive letters. Viola comes back to Olivia's house to talk to her for Orsino, but Olivia declares to Viola that she loves her (as Cesario). Andrew again announces he's leaving, but Toby and Fabian again convince him to stay, convincing him he should duel Viola (as Cesario) to impress Olivia to love him. Separately, Toby admits to Fabian he only keeps Andrew around to use his money for alcohol. Sebastian and Antonio arrive in Illyria and Sebastian decides to tour the town, then meet Antonio at the Elephant Inn. At Olivia's house, Malvolio approaches Olivia and makes advances to her, but she thinks him mad. When Toby, Maria, and Fabian appear, Malvolio treats them like they are base and he is royal, causing them to laugh uproariously behind his back. Andrew appears with his outrageously stupidly worded challenge to Viola and Toby promises to deliver it. Toby comes to Viola (who had been speaking with Olivia) and tells her (as Cesario) that Andrew, a most fierce and dreaded knight, has a quarrel with her and will duel her. This greatly fears Viola, but Fabian promises to try to calm Andrew. Separately, Toby tells Andrew that Viola is fierce and unstoppable. Toby gets the two to duel, both fearing the other, when Antonio appears and breaks it up, thinking Viola to be Sebastian. Officers of the Duke then appear and arrest Antonio by order of Orsino. Antonio, thinking Viola to be Sebastian, asks for the money back that he lent Sebastian earlier. Viola, not knowing what he means, denies she knows him (though offers him money on loan), angering him and calling her disloyal. The officers lead him away while Viola realizes the confusion and finds new hope that Sebastian is alive. After Viola leaves, Toby and Fabian egg Andrew on further to once again duel Viola (as Cesario). Outside Olivia's house, the clown follows Sebastian around (thinking him Viola) insisting his name is Cesario and that Olivia desires to see him. This annoys Sebastian and he bids the clown to leave. Andrew then appears and strikes Sebastian (thinking him Viola/Cesario), but Sebastian strikes back at Andrew, scaring him. Toby, trying to keep Sebastian from Andrew himself duels Sebastian, until Olivia breaks it up. Sebastian immediately falls in love with her and they depart into her house together. In another part of the house, Malvolio is kept prisoner in a cell in the basement by Toby and Maria. The clown pretends to be a priest and visits him, but will not help him, and, rather, makes fun of him and calls him mad. In Olivia's garden, Sebastian ponders the amazement of the finding of his new love Olivia, then she and he go with a priest to the church to be married. At Olivia's house, the Duke arrives and entreats the clown to let him see Olivia. While waiting, Antonio shows up with the officers and explains how he rescued Sebastian from the sea then helped him (actually Viola) in the duel. Orsino tells Antonio he is a pirate and not to be trusted since he helped steal one of Illyria's greatest battleships in the past. Olivia arrives and immediately starts doting on Viola (as Cesario), eventually calling her husband, shocking Viola and enraging the Duke. The Priest arrives and confirms the marriage between Olivia and Cesario (actually Sebastian). Andrew then appears and swears Cesario struck Toby alongside the head, wounding him, but Viola denies it. Toby appears, mad at Viola (thinking her Sebastian), but leaves to be bandaged. Finally, Sebastian appears and greets all, while both twins (he and Viola) are amazed and delighted that the other is living. Sebastian promises to keep his marriage to Olivia, and the Duke vows to marry Viola. Malvolio is brought forth from the cell and all learn of the trick played on him. Fabian and the Clown admit they, Toby, and Maria did it all in jest, and in return for Maria's help, Toby married her. However, Malvolio vows to be revenged on them all. The Duke calls his servants to calm Malvolio, and all depart happily.
SOME SONNETS:
Not only is Shakespeare the English language's greatest playwright, but one of its greatest lyric poets. Containing some of the greatest lyric poems in English literature, Shakespeare's Sonnets are not just the easy love sentiments of "Shall I compare thee to a summer's day." (Sonnet XVIII) Many of the poems are bleak cries of emotional torment and spiritual exhaustion. They tell a story of the struggle of love and forgiveness against anguish and despair. It is this tragic portrait of human love that makes the sonnets immortal.Also the themes of the brevity of life. In the first sonnet he compares the aging process to the onset of winter, to the fading of daylight and to the dying down of a fire so powerfully that one is surprised at the conclusion to realize that this is after all a love poem, expressing in a fresh way the old theme of tempus fugit ("time flies"), to tell his beloved that love can be more intense when one realizes that it is doomed to be brief. The second theme takes up another classic theme, ars longa, vita brevis ("art last long, though life is short") in a way that shows Shakespeare was confident of his own greatness. He clearly believed his poetry would last, and used that fact as an argument for love. In the final lines he states, as a Christian, that the lover will live again on Judgment Day, but between this day and the end of the world, will live on through the poem. Shakespeare evidently addressed these poems to a young man, but they have been used to express the longings of lovers of all kinds.
My selection : (It is very difficult to choose among the 154 sonnets.) 18, 23, 29, 30, 66, 73, 55, 130, 147…