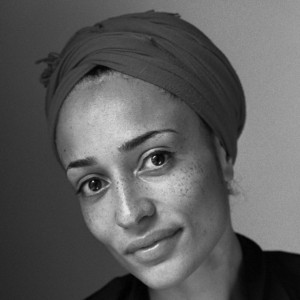 (1975 - )
Zadie Smith was born Sadie Smith on October 27th, 1975, in the Willesden area of North London, the daughter of a British father and a Jamaican mother. Later she would draw on this North London setting and her own multicultural ethnicity in her novels. She changed her name to the more exotic-sounding Zadie as a child pursuing the performing arts of tap dancing and jazz singing. She was fascinated with old Hollywood movie musicals. Smith attended Hampstead Comprehensive School until the age of eighteen and King's College, Cambridge University, from 1994 to 1997, graduating with a degree in English literature. While at Cambridge, Smith published short stories in the May Anthologies, the annual collection of work by students at Oxford and Cambridge. While still a university student, she was offered an advance of £250,000, for her first two books. The size of the advance for such a young, unknown writer put her name in the news even before her first book was published. Smith was writer-in-residence at the Institute of Contemporary Arts in London from 2000 to 2001 while writing her second novel, The Autograph Man. This novel was not as well-received as White Teeth, more than likely because it was impossible to live up to the media attention that had attended the first novel. One of the themes of The Autograph Man is an exploration of the nature of fame and celebrity, possibly in reaction to Smith's experience after the publication of White Teeth. In 2002-2003, Smith lived in the United States, teaching, studying, and writing as a fellow at the Radcliffe Institute for Advanced Study at Harvard University. While there, she began work on literary essays. Smith's third novel, On Beauty, a transatlantic campus novel, was published in 2005. Set in London and on the campus of a fictional American university, the novel depicts the disintegration of the marriage of Howard Belsey, a liberal, white art-history professor married to a vibrant African American woman, and his collision with his ultraconservative Anglo-Caribbean archrival, Monty Kipps. In 2004, Smith married poet and novelist Nicholas Laird. The two met while students at Cambridge.White Teeth, Smith's first novel, was published in January, 2000, when Smith was twenty-four years old. The book, a saga of three families in multicultural north London, was an instant best seller, and Smith became a literary celebrity.
My selection:
White Teeth : (Sourires de Loups) 2000
On New Year's morning, 1975, Archie Jones sits in his car on a London road and waits for the exhaust fumes to fill his Cavalier Musketeer station wagon. Archie—working-class, ordinary, a failed marriage under his belt—is calling it quits, the deciding factor being the flip of a 20-pence coin. When the owner of a nearby halal butcher shop (annoyed that Archie's car is blocking his delivery area) comes out and bangs on the window, he gives Archie another chance at life and sets in motion this richly imagined, uproariously funny novel. White Teeth is the story of two North London families—one headed by Archie, the other by Archie's best friend, a Muslim Bengali named Samad Iqbal. Pals since they served together in World War II, Archie and Samad are a decidedly unlikely pair. Plodding Archie is typical in every way until he marries Clara, a beautiful, toothless Jamaican woman half his age, and the couple have a daughter named Irie (the Jamaican word for "no problem"). Samad —devoutly Muslim, hopelessly "foreign"— weds the feisty and always suspicious Alsana in a prearranged union. They have twin sons named Millat and Magid, one a pot-smoking punk-cum-militant Muslim and the other an insufferable science nerd. The riotous and tortured histories of the Joneses and the Iqbals are fundamentally intertwined, capturing an empire's worth of cultural identity, history, and hope.